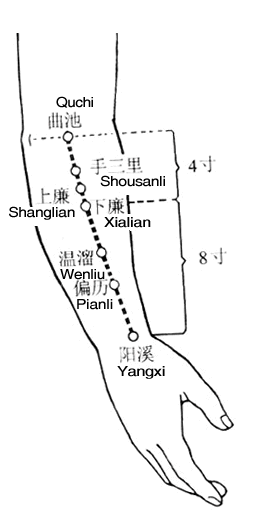 Wenliu(LI7, 温溜) is an acupuncture point in the meridian named Yangming Large Intestine Meridian of Hand. Wenliu is the Xi-Cleft Point of the Large Intestine.
Meaning
Wen, to warm; liu, circulation.
This point is able to warm the meridian and promote its circulation, and is good for treating cold-pain of the elbow and arm.
Location
5 cun above Yangxi, on the line joining Yangxi and Quchi.
Indication
Stomatitis, glossitis, parotitis, ache in the shoulder and arm.
Method
Perpendicularly 1-1.5 cun.