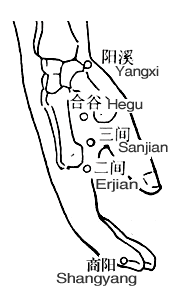 Yangxi(LI5, 阳溪) is an acupuncture point in the meridian named Yangming Large Intestine Meridian of Hand. Yangxi is the Jing-River point of the Large Intestine.
Meaning
Yang, Yang of Yin-Yang; xi, brook. Yang, refers to the yang meridian. The local depression is like a brook in the mountains.
Location
On the radial side of the transverse dorsal crease of the wrist, in the depression between the tendons of m. extensor pollicis longus and brevis.
Indication
(1) frontal headache, congestion, swelling and pain of the eye, toothache.
(2) weakness of the wrist.
Method
Perpendicularly 0.5-0.8cun.