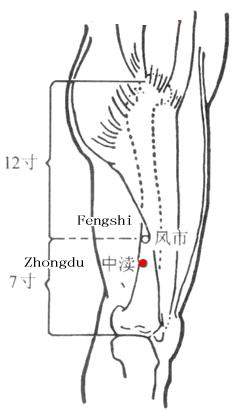 Zhongdu(GB32,中渎) is an acupuncture point in the meridian named Shaoyang Gall Bladder Meridian of Foot.
Location
At the lateral portion of the thigh and 2 cun directly below Fengshi (GB31), or 5 cun superior to the transverse popliteal crease.
Indication
Atrophic debility of the lower limb, paralysis.
Method
Puncture perpendicaularly 0.7-1.0 inch. Moxibustion is applicable.