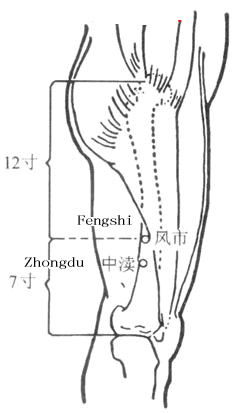 Fengshi(GB31,风市) is an acupuncture point in the meridian named Shaoyang Gall Bladder Meridian of Foot.
Meaning
Feng, pathogenic wind; shi, market.
Market means gathering and dispersing. This is an important point for removing pathogenic wind.
Location
On the midline of the lateral aspect of the thigh, 7 cun above the transverse politeal crease.
Indication
Pain of the lower extremities, paraplegia.
skin pruritus used with Quchi point.
Method
Perpendicularly 1-2 cun.