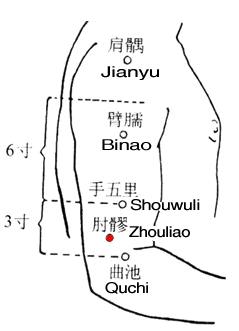 Zhouliao(LI12, 肘髎) is an acupuncture point in the meridian named Yangming Large Intestine Meridian of Hand.
Location
When the elbow is flexed, the depression 1 cun above and lateral to Quchi(LI11). Directly above the lateral epicondyle of the humerus.
Vasculature
The radial collateral artery and vein.
Innervation
The posterior antebrachial cutaneous nerve; deeper, on the me. dial side, the radial nerve.
Indication
Aching pain, numbness and spasm of the elbow and arm, and other diseases of the local area.
Method
Puncture perpendicularly 0.5-1.0 inch. Moxibustion is applicable.