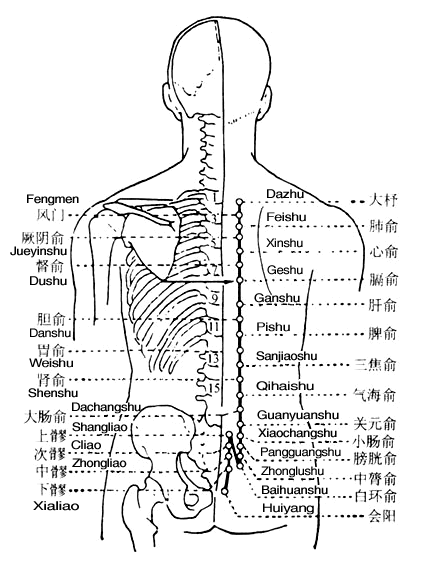 Ganshu(BL18,肝俞) is an acupuncture point in the meridian named Taiyang Bladder Meridian of Foot.
Meaning
Gan, Liver; shu, point.
This point is where the Qi of Liver is infused into the back.
Location
1.5 cun lateral to the lower border of the spinous process of the 9th thoracic vertebra.
Indication
main point for hepatic diseases, such as jaundice, pain in the hypocondriac region.
dizziness, headache, epilepsy, madness, convulsion.
pain due to the depression of hepatic energy or gastric energy, such as gastritis and ulcer.
main point for eye diseases. Acupuncture is proper to Excess Syndrome, moxibustion for deficiency syndrome.
backache.
Method
Puncture perpendicularly or a bit obliquely in the direction of the midline 0.5-0.8 cun.
Remarks
Back-Shu Point of the Liver. Avoid deep insertion.