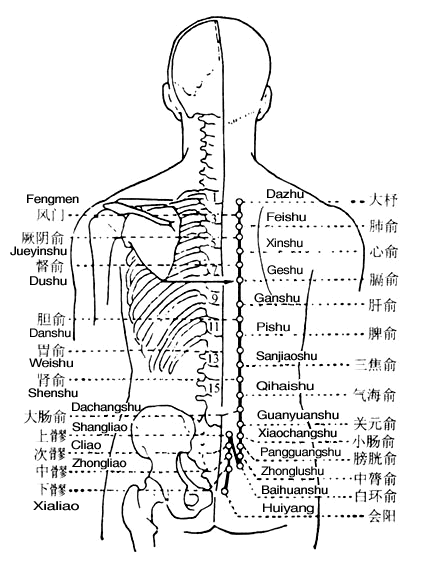 Geshu(BL17,膈俞) is an acupuncture point in the meridian named Taiyang Bladder Meridian of Foot.
Meaning
Ge, diaphragm; shu, point.
This point is where the Qi of diaphragm is infused into the back.
Location
1.5 cun lateral to the lower border of the spinous process of the 7th thoracic vertebra.
Indication
1.feeling of oppression in the chest, cough, asthme
2.stomachache, fullness of the stomach, vomiting and hiccup
3.main point for blood syndrome, such as hematemesis, bleeding from the eye, ear, nose, mouth or subcutaneous tissues
4.furuncles, urticaria and skin pruritus
Method
Puncture perpendicularly or a bit abliquely in the direction of the midline 0.5-0.8 cun.
Remarks
A point where blood assembles. Avoid deep insertion.