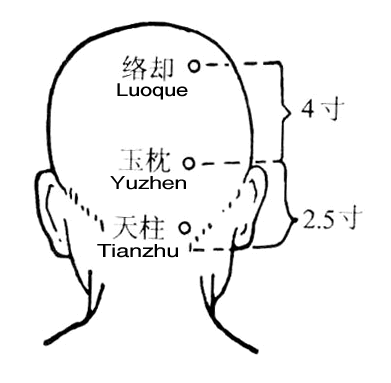 Tianzhu(BL10,天柱) is an acupuncture point in the meridian named Taiyang Bladder Meridian of Foot.
Meaning
Tian, heaven; zhu, pillar.
Upper is considered as heaven. The cervical spine was called Zhugu(Pillar bone) in ancient times; the point is lateral to it.
Location
0.5 cun directly above the midpoint of posterior hairline, 1.3 cun lateral to the anterior-posterior midline, in the depression of lateral border of m.trapezium.
Indication
neck rigidity, cervical spondylopathy
cold-caused nose stuff, sore throat
Method
Puncture perpendicularly or obliquely in the direction of the midline 0.5-1 cun. Deep puncture upward is prohibited to avoid medulla injury.