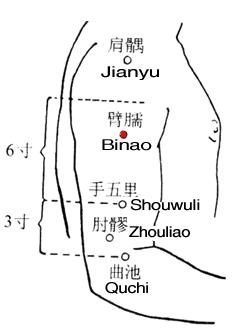 Binao(LI14, 臂臑) is an acupuncture point in the meridian named Yangming Large Intestine Meridian of Hand.
Location
On the line connecting Quchi(LI11) with Jianyu(LI15), 7 cun above Quchi(LI11), at the end of the deltoid.
Vasculature
The branches of posterior circumflex humeral artery and vein,the deep brachial artery and vein.
Innervation
The posterior brachial cutaneous nerve; deeoer, the radial nerve.
Indication
①Crampy pain and paralysis in the shoulder and arm, neck convulsions,and other diseases of arm and shoulder;
②scrofula;
③eye diseases.
Method
Puncture perpendicularly or obliquely upward 0.8-1.5 inches. Moxibustion is applicable.