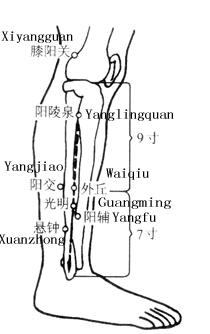 Xuanzhong(GB39,悬钟) is an acupuncture point in the meridian named Shaoyang Gall Bladder Meridian of Foot.
Meaning
Xuan, hanging; zhong, bell.
The point is above the lateral malleolus, where the children in ancient times used to hang a bell.
Location
3 cun above the tip of the external malleolus, on the posterior border of the fibula.
Indication
Pain in the lower extremities, paralysis, talipes vanus (strephenopodia).
pain of stiff neck and the nape.
pain of the malleolus joint and around.
Method
Perpendicularly 1-1.5 cun.