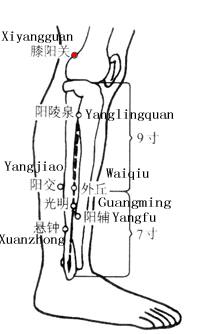 Xiyangguan(GB33,膝阳关) is an acupuncture point in the meridian named Shaoyang Gall Bladder Meridian of Foot.
Location
On the lateral side of the knee, 3 cun above Yanglingquan (GB34), in the depression superior to the lateral epicondyle of the femur.
Indication
Pain and stiffness in the popliteal fossa and knee, paralysis of the leg, knee pain.
Method
Perpendicular insertion 1一1.5 cun.