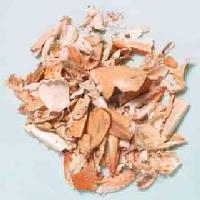 Name
Xie Ke (Crab shell)
The Effect of Xie Ke
Property
Salt, cold; liver and spleen meridians entered.
Actions
Dissipate stasis, stop bleeding, remove toxicity and resolve swelling.
Indications
Sores and boils, insect bites, blood stasis, uterine bleeding, ulcerative gingivitis, jaundice due to blood accumulation.
Dosage and Administrations
Stir-bake it into charcoal, and then pound into powder for oral taking. Proper dosage is for external application, pounded for applying.