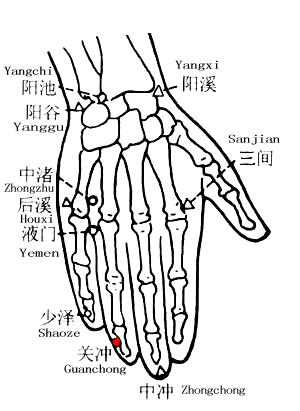 Guanchong(TE1,关冲) is an acupuncture point in the meridian named Shaoyang Sanjiao Meridian of Hand. It is the Jing-well and metal point.
Location
On the dorsal aspect of the little finger, about 0.1 cun from the corner of the base of the nail on the ulnar side of the ring finger.
Indication
①Headache, redness with swelling of the eye, deafness, tinnitus, laryngopiegia, stiff tongue, and other facial problems or disorders of the five sense organs;
②febrile diseases, sunstroke.
Method
Shallow insertion 0.1 cun, or prick to bleed with a three-edged needle.