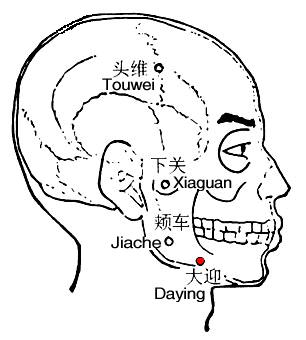 Daying(ST5,大迎) is an acupuncture point in the meridian named Yangming Stomach Meridian of Foot.
Location
Anterior to the angle of the mandible, in the depression on the anterior border of the masseter, near the facial artery pulse.
Indication
Deviation of the mouth and eye, swelling of the cheek, toothache, and the local area diseases.
Method
Avoid puncturing the artery. Puncture obliquely 0.3 -0.5 inch. Moxibustion is applicable.