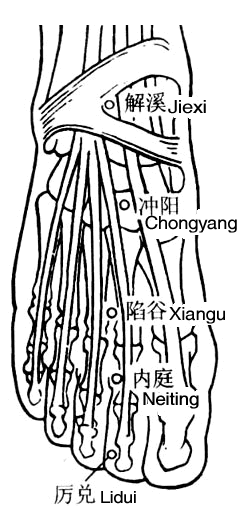 Lidui(ST45,厉兑) is an acupuncture point in the meridian named Yangming Stomach Meridian of Foot. It is the Jing-Well Point of the stomach.
Meaning
Li, stomach; dui, door.
This point is at the end of the second toe, like a door of the Stomach Meridian.
Location
On the lateral side of the 2nd toe, about 0.1cun posterior to the corner of the nail.
Indication
Hysteria, insomnia, tonsillitis.
Method
Superficially 0.1cun or peck into bleeding.