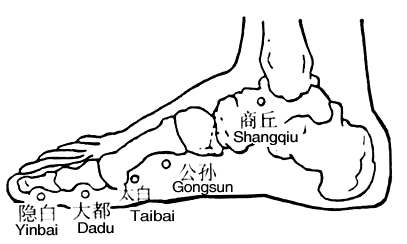 Dadu(SP2, 大都) is an acupuncture point in the meridian named Taiyin Spleen Meridian of Foot. Dadu is the Ying-Spring Point of the spleen.
Meaning
Da, big; du, assembling. The point is at the big toe, where the Qi of meridian gathers.
Location
On the medial side of the big toe, distal and inferior to the 1st metatarsophalangeal joint, at the junction of the red and white skin.
Indication
Stomachache, constipation, diarrhea, fever without sweating.
Method
Perpendicularly 0.3-0.5 cun.