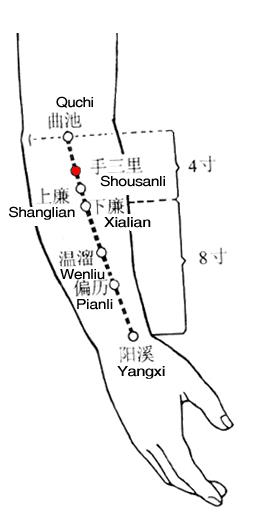 Shousanli(LI10, 手三里) is an acupuncture point in the meridian named Yangming Large Intestine Meridian of Hand.
Location
2 cun below Quchi(LI11), on the Jine connecting Quchi with yangxi(LI5) .
Vasculature
The branches of the radial recurrent artery and vein.
Innervation
The posterior antebrachial cutaneous nerve and the deep ramus of the radial nerve.
Indication
①Numbness and pain of the hand,motor impairment of the upper extremities, and other diseases of the arms ;
②bellyache, diarrhea;
③toothache, swollen cheek.
Method
Perpendicular insertion 0.8~1.2 cun. Moxibustion is applicable.