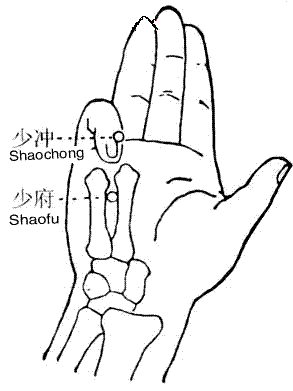 Shaochong(HT9, 少冲) is an acupuncture point in the meridian named Shaoyin Heart Meridian of Hand. Shaochong is the Jing-Well Point of the heart.
Meaning
Shao, young; chong, gushing. The point is at the small finger on the Hand-Shaoyin Meridian, where the Qi of meridian originates and gushes upwards along the meridian.
Location
On the radial side of the little finger, about 0.1 cun posterior to the corner of the nail.
Indication
Cardiac pain, mental disorder, coma.
Method
Superficially 0.1 cun, or peck into bleeding.