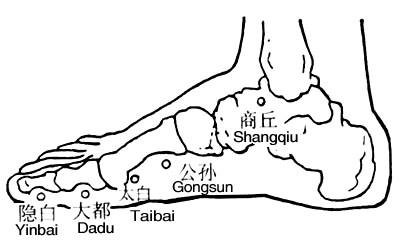 Shangqiu(SP5, 商丘) is an acupuncture point in the meridian named Taiyin Spleen Meridian of Foot. Shangqiu is the Jing-River Point of the spleen.
Meaning
Shang, one of the Five Sounds, pertaining to metal; qiu, hills.
This is the Jing-River Point of the Spleen Meridian and pertains to metal. The point is below the medial malleolus, which resembles a hill.
Location
In the depression distal and inferior to the medial malleolus.
Indication
Abdominal distention, diarrhea, constipation, jaundice.
Method
Perpendicularly 0.5-0.8 cun.