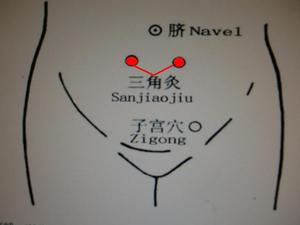 Location
On the middle part of the abdomen, 1 cun respectively lateral to up, lower, left and right middle of the navel which includes Shuifen (CV9) above the navel and Yinjiao (CV7) below the navel which are acupoints of the Conception Vessel.
Indication
Digestive Diseases: gastrospasm, hyperactive bowel sounds, acute and chronic gastroenteritis, dilatation of stomach, indigestion.
Others: epilepsia, etc.
Method
Moxibustion is applied with three to five moxa cones.