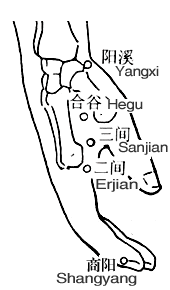 Sanjian(LI3, 三间) is an acupuncture point in the meridian named Yangming Large Intestine Meridian of Hand. Sanjian is the Shu-Stream point of the Large Intestine.
Meaning
San, three, third; jian, clearance.
Jian, indicates the point. This is the third point of the large. Intestine Meridian.
Location
On the radial side of the index finger, in the depression posterior to the metacarpophalangeal joint.
Indication
Tooache, pain and swelling of the throat, pain in the eye, pain in the finger joint.
Method
Perpendicularly 0.3-0.5cun.