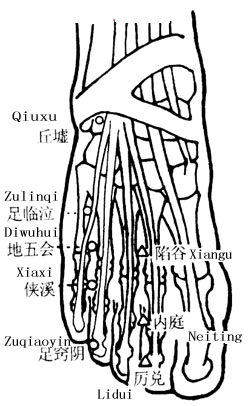 Qiuxu(GB40,丘墟) is an acupuncture point in the meridian named Shaoyang Gall Bladder Meridian of Foot. It is the Yuan-Source Point of the Gall Bladder.
Meaning
Qiu, mound; xu, large mound.
The point is between the lateral malleolus (like a mound) and the peroneal trochlea of calcaneus (like a large mound).
Location
Anterior and inferior to the external malleolus, in the depression on the lateral side of the tendon of m.extensor digitorum longus.
Indication
Cholecystitis, cholecystolithiasis(cholelithiosis), ascariasis of the gallbladder.
pain in the lower extremities, paralysis.
pain in malleolus joint and around, such as arthritis and sprain.
Method
Perpendicularly 0.8-1 cun.