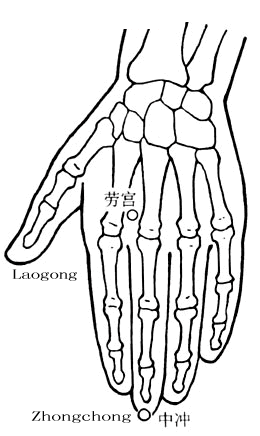 Zhongchong(PC9,中冲) is an acupuncture point in the meridian named Jueyin Pericardium Meridian of Hand. It is the Jing-Well Point of the pericardium.
Meaning
Zhong, middle; chong, gushing.
The point is at the tip of the middle finger and is the Jing-Well point of Pericardium Meridian, where the Qi of meridian originates and gushes upward along the meridian.
Location
In the centre of the tip of the middle finger.
Indication
high fever, unconsciousness, apoplexy and heat stroke.
convulsion of hysteria.
pain and numbness of fingers.
Method
Perpendicularly 0.1 cun or peck to bleeding.