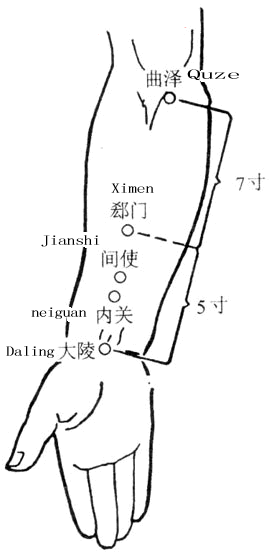 Jianshi(PC5,间使) is an acupuncture point in the meridian named Jueyin Pericardium Meridian of Hand. It is the Jing-River Point of the pericardium.
Meaning
Jian, space; shi, minister of a monarchy.
The point pertains to the Pericardium Meridian and is in the space between the two tendons. It is so named because the pericardium is the minister of the heart.
Location
3 cun above the transverse crease of the wrist, between the tendons of m.palmaris longus and m.flexor carpi radialis.
Indication
Cardiac pain, arrhythmia, mental disorder, epilepsy, stomachache, vomiting, malaria.
Method
Perpendicularly 0.5-1.5 cun.