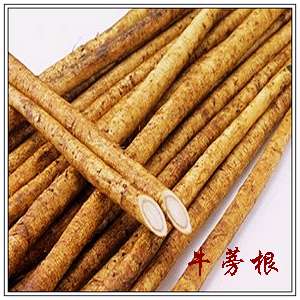 Name
Niu Bang Gen (Root of Great Burdock)
The Effect of Niu Bang Gen
Property
Bitter, slightly sweet, cool; heart and lung meridians entered.
Actions
Expel wind-heat, resolve swelling.
Indications
Toothache, sores and boils, sore throat, diabetes, cough, dizziness, edema of face.
Dosage and Administrations
Proper dosage is for external application, pounded for applying or decocted for washing.
Decoct 6~15 g, or pounded into juice, or soaked in wine.