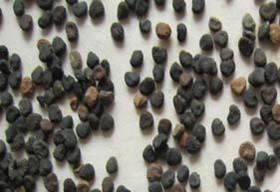 Name
Man Tuo Luo Zi (Jamestownweed Seed)
The Effect of Man Tuo Luo Zi
Property
Pungent, bitter, warm, toxic; liver, spleen meridians entered.
Actions
Alleviate pain and relieve asthma.
Indications
Stomachache, traumatic injury, cold asthma, rheumatic arthritis.
Dosage and Administrations
Decoct 0.1~0.3 g. Proper dosage is for external application. Decocted for washing or soaked in wine for applying.
Cautions
It is toxic, so it should be used very carefully.