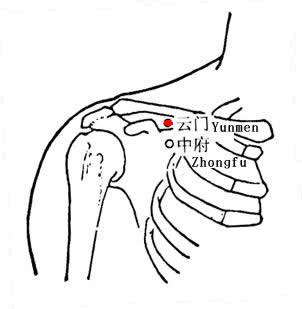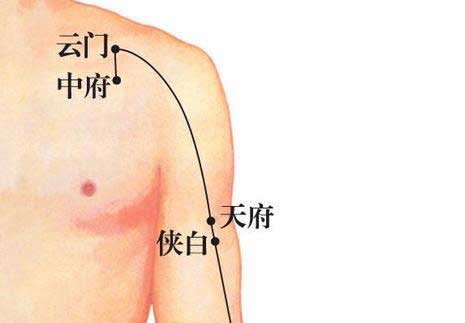 Yunmen (LU2, 云门) is an acupuncture point in the meridian named Taiyin Lung Meridian of Hand.
Location
On the latero-superior aspect of the chest, superior to the coracoid process of scapula, in the depression of the infraclavicular fossa, 6 cun lateral to the anterior median line.
Vasculature
The cephalic vein, the thoracoacromial artery and vein; inferiorly, the axillary artery.
Innervation
The intermediate and lateral supraclavicular nerve, the branches of the anterior thoracic nerve, and the lateral cord of the brachial plexus.
Indication
①Bronchitis, asthma, chest pain, and other lung diseases;
②shoulder pain.
Method
Puncture obliquely 0.5-0.8 inch towards the lateral aspect of the chest. To avoid injuring the lung, never puncture deeply towards the medial aspect. Moxibustion is applicable.