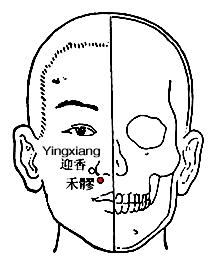 Heliao(LI19, 禾髎) is an acupuncture point in the meridian named Yangming Large Intestine Meridian of Hand.
Location
Above the upper lip, 0.5 cun lateral to Shuigou(GV26), below the lateral side of the nares.
Vasculature
The superior labial branches of the facial artery and vein.
Innervation
The anastomotic branch of the facial nerve and the infraorbital nerve.
Indication
Sniffles, nosebleed, rhinitis, deviation of the mouth, trismus, and other diseases of the local area.
Method
Puncture obliquely 0.2-0.3 inch.