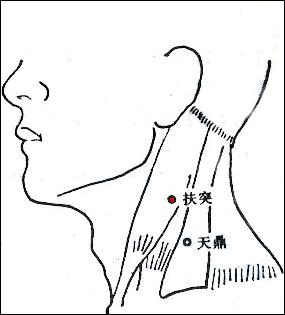 Futu(LI18, 扶突) is an acupuncture point in the meridian named Yangming Large Intestine Meridian of Hand.
Location
Lateral side of the neck, level with the tip of the laryngeal prominence, between the two heads(sternal and clavicular) of the sternocleidomastoid.
Vasculature
Deeper, on the medial side, the ascending cervical artery and vein.
Innervation
The great auricular nerve, cutaneous cervical nerve, lesser occipital nerve and accessory nerve.
Indication
①Sore throat, sudden loss of voice, and other diseases of the throat;
②scrofula and goiter;
③bronchitis, asthma;
④the point of acupuncture anesthesia for cervical operation.
Method
Puncture perpendicularly 0.3-0.5 inch. Moxibustion is applicable.