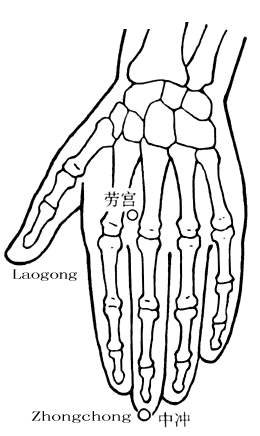 Laogong(PC8,劳宫) is an acupuncture point in the meridian named Jueyin Pericardium Meridian of Hand. It is the Ying-Spring Point of the pericardium.
Meaning
Lao, labor; gong, center.
The hand is for labor, and Lao refers to the hand. The point is in the center of the palm.
Location
At the region of the palm where the tip of the middle finger is reached with the fist clenched.
Indication
Cardiac pains, mental disorder, vomiting, ozostomia.
Method
Perpendicularly 0.3-0.5 cun.