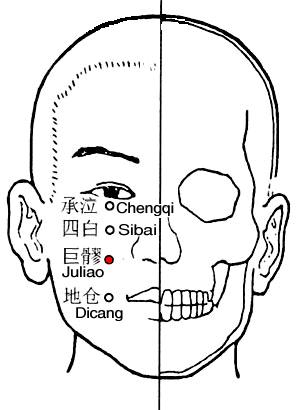 Juliaoxue(ST3,巨髎) is an acupuncture point in the meridian named Yangming Stomach Meridian of Foot.
Location
Directly below the pupil of the eye when looking straight ahead; level with the lower border of the ala nasi, lateral to the naso-labial groove.
Indication
Deviation of the mouth and eye, epistaxis, toothache and swelling of the lips and cheek, and other five sense organs'diseases.
Method
Puncture perpendicularly 0.3-0.5 inch. Moxibustion is applicable.