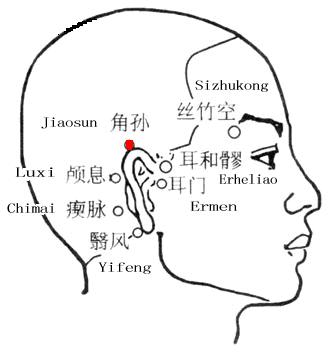 Jiaosun(TE20,角孙) is an acupuncture point in the meridian named Shaoyang Sanjiao Meridian of Hand.
Location
Anterior to the auricle, within the hairline of the temple directly above the tip of the ear when the ear is folded forward.
Indication
①Headache, stiffness of the neck;
②redness with pain and swelling of the eye, cataract;
③toothache, swelling of the cheek.
Method
Puncture subcutaneously 0.3-0.5 inch. Moxibustion is applicable.