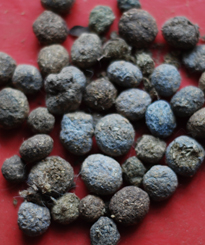 Name
Wang Yue Sha (Hare dung)
The Effect of Hare dung
Property
Pungent, cold; liver and lung meridians entered.
Actions
Remove nebula, improve eyesight, remove toxicity and kill parasites.
Indications
Nebula, anal fistula, malnutrition.
Dosage and Administrations
Decoct 5~10 g, or made into pills and powder. Proper dosage is for external application. Stir-bake it into charcoal and then pound into powder for applying.
Cautions
It is contraindicated to pregnant women.