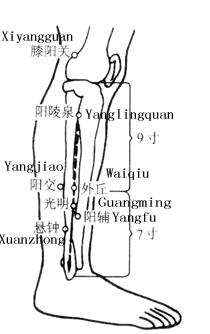 Guangming(GB37,光明) is an acupuncture point in the meridian named Shaoyang Gall Bladder Meridian of Foot.
Meaning
Guangming, brightness.
This is a Luo-Connecting Point of the Gallbladder Meridian, and is indicated in eye disease to regain brightness.
Location
5 cun above the tip of the external malleolus, on the anterior border of the fibula.
Indication
Short eyesight, night blindness, optic atrophy, migraine, paralysis of the lower limbs.
Method
Perpendicularly 0.8-1.2 cun.