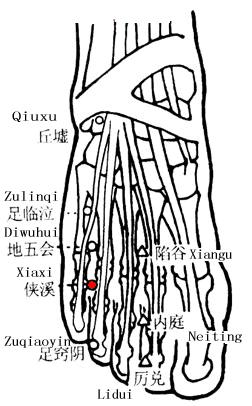 Xiaxi(GB43,侠溪) is an acupuncture point in the meridian named Shaoyang Gall Bladder Meridian of Foot. It is the Ying-spring and water point of the meridian.
Location
Proximal to the margin of the web between the 4th toe and 5th toes,at the junction of the red and white skin.
Indication
①Palpitation;
②headache, vertigo, swelling of cheek, tinnitus, deafness, redness with pain of eye, and other diseases of the face and five sense organs;
③pain in the hypochondriac region, pain in the knee and thigh, pain in the dorsum of the foot;
④acute mastitis;
⑤febrile disease.
Methods
Sit, pedal forward to the ground, 4th and 5th toes side of the dorsum.