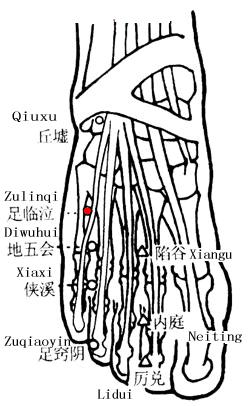 Zulinqi(GB41,足临泣) is an acupuncture point in the meridian named Shaoyang Gall Bladder Meridian of Foot. It is the Shu-stream and wood point, confluent point of belt vessel.
Location
On the dorsum of the foot,in the depression distal to the junction of the bases of the 4th and 5th metatarsals,on the lateral side of the tendon of extensor digitorum Longus.
Indication
①Migraine, pain in the outer canthus, pain in the hypochondriac region, pain in the dorsum of the foot;
②irregular menstruation, acute mastitis;
③scrofula.
Methods
Perpendicular insertion 0.5~0.8 cun.