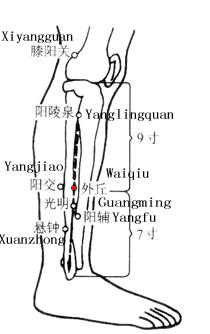 Waiqiu(GB36,外丘) is an acupuncture point in the meridian named Shaoyang Gall Bladder Meridian of Foot. It is the Xi-cleft point of the meridian.
Location
On the lateral aspect of the lower leg,7 cun above the lateral malleolus,at the anterior border of the fibula.
Indication
①Epilepsy and mania;
②fullness in the chest and hypochondriac region;
③atrophic debility of the lower limb.
Methods
Locates lateral to the shank, 7 cun above the tip of the external malleolus, on the anterior border of the fibula and parallel to Yangjiao (GB 35).