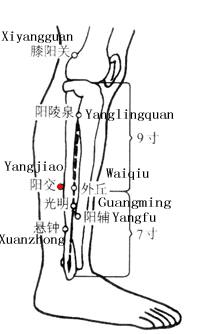 Yangjiao(GB35,阳交) is an acupuncture point in the meridian named Shaoyang Gall Bladder Meridian of Foot. It is the Xi-cleft point of yang link vessel.
Location
7 cun directly above the top of the lateral malleolus,and on the posterior border of the fibula.
Indication
①Epilepsy and mania;
②clonic convulsions;
③fullness in the chest and hypochondriac region;
④atrophical debility of the lower Limb.
Methods
Perpendicular insertion 0.5~0.8 cun.