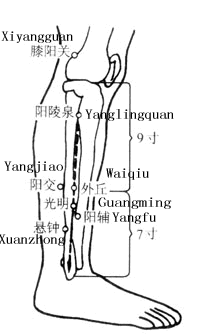 Yanglingquan(GB34,阳陵泉) is an acupuncture point in the meridian named Shaoyang Gall Bladder Meridian of Foot.
Meaning
Yang, Yang of Yin-Yang; ling, mound; quan, spring.
The exterior is Yang. The head of the fibula at the lateral aspect of the knee is prominent as a mound, below which in the depression the point is located, like a spring.
Location
In the depression anterior and inferior to the head of the fibual.
Indication
Hepatitis, choldcystits, cholelithisis (cholecyslolithiasis), ascariasis of the gallbladder.
migraine, pain in the hypochondriae and costal region, sciatic neuralgia.
convulsion, paralysis.
pain in the knee joint and local pain.
Method
Perpendicularly 1-1.5 cun.