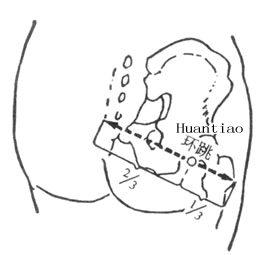 Huantiao(GB30,环跳) is an acupuncture point in the meridian named Shaoyang Gall Bladder Meridian of Foot.
Meaning
Huan, a ring; tiao, jump.
The point is at the hip joint, which is the pivot for jumping.
Location
At the junction of the middle and lateral third of the distance between the highest point of great trochanter and the hiatus of the sacrum.
Indication
Main point to treat diseases of the lower extremities: sciatic neuralgia, paraplegia.
ache of the thigh bone, facialitis of gluteal muscles.
Method
Perpendicularly 2-3 cun.