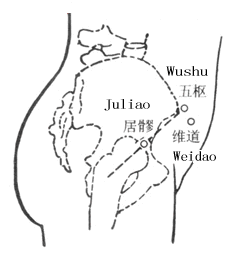 Juliao(GB29,居髎) is an acupuncture point in the meridian named Shaoyang Gall Bladder Meridian of Foot.
Meaning
Ju, reside; liao foramen.
The point is in the depression on the hipbone.
Location
Midway between the prominence of the anterior superior iliac spine and the great trochanter.
Indication
Pain in the waist and the leg, athritis of thigh bone and pain of the local soft tissues.
Method
Perpendicularly 1-1.5 cun.