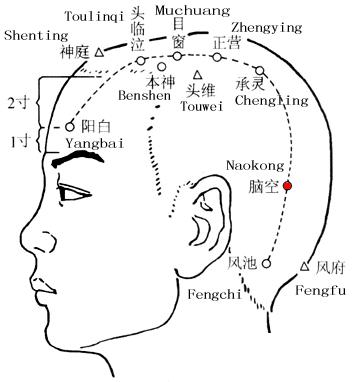 Naokong(GB19,脑空) is an acupuncture point in the meridian named Shaoyang Gall Bladder Meridian of Foot.
Location
Above the occipital ridge, directly above Fengchi (GV16), lateral to the external occipital protuberance, 2.25 cun beside the posterior midline, level with Naohu (GV17).
Indication
①Febrile disease;
②headache, pain and stiffness of the neck and nape;
③dizziness, redness with pain and swelling of the eye, pain in the nose, deafness, and other five sense organs disorders;
④palpitations, epilepsy.
Method
Puncture subcutaneously 0.3-0.5 inch. Moxibustion is applicable.