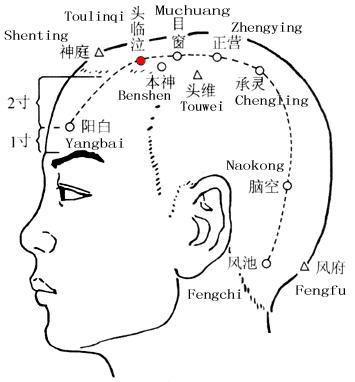 Toulinqi(GB15,头临泣) is an acupuncture point in the meridian named Shaoyang Gall Bladder Meridian of Foot.
Location
On the forehead, 0.5 cun within the anterior hairline, directly above Yangbai (GB14), midway between Shenting(GV24) and Touwei(ST8).
Indication
①Headache;
②pain in the eye, dizziness, dacryorrhea, dim vision;
③nasal congestion;
④infantile convulsion.
Method
Puncture subcutaneously 0.3-0.5 inch. Moxibustion is applicable.