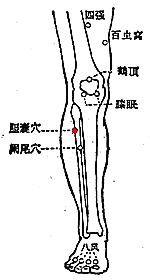 Meaning
Dan, gallbladder; nang, a hollow bag-like object.
Gallbladder, one of the six Fu organs, is located below the liver. When disorders of this organ occur, the tender point commonly appears below Yanglingquan (GB34) on leg. It is helpful for the diagnosis and treatment, so it was called "Dannang".
Location
At the upper part of the lateral surface of the leg, 2 cun directly below the depression anterior and inferior to the head of the Yanglingquan (GB34).
Indications
Acute and chronic cholecystitis, cholelithiasis, biliary ascarriasis.
weakness, numbness and pain of lower extremities.
Method
Puncture perpendicularly 0.8-1.2 inches.