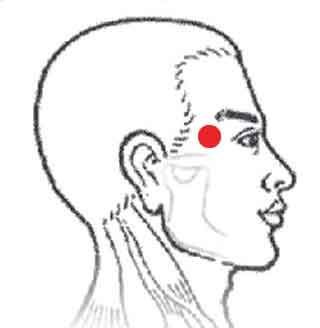 Meaning
Tai, is an adjective, such as high, big, extremely; yang, Yang of Yin-Yang. The light depression of temple on head was called Taiyang (Temple), this point is right on it, so called it as Taiyang.
Location
In the region of the temples, in the depression about one finger-breadth posterior to the midpoint between the lateral end of the eyebrow and the outer canthus.
Indication
1.Headache, redness, swelling and pain of the eyes
2.Toothache, facial pain
Method
Perpendicular or oblique insertion 0.3-0.5 cun, or prick to cause bleeding.