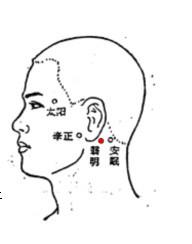 Meaning
Yi, cover or cloud-like; ming, light. The point can treat the diseases of eyes, with it just like dispelling the clouds and seeing the light, so it was named "Yiming".
Location
On the neck, 1cun posterior to TE17 (Yifeng).
Indication
1.Eye diseases (myopia, hyperopia, night blindness, optic atrophy, early stage of cataract).
2.Tinnitus, deafness.
3.Insomnia.
Method
Perpendicular insertion 0.5-1.0 cun.