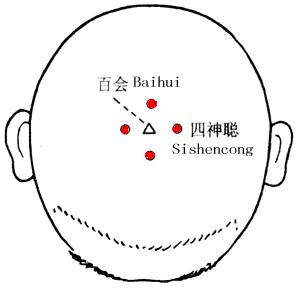 Meaning
Si, number four; shen, consciousness.
Indication
Unconsciousness, diseases of ears and eyes, so it was named Sishengcong.
Location
At the vertex of the head, a group of four points, 1 cun respectively anterior, posterior and lateral to GV20 (Baihui).
Indication
1.Headache, vertigo
2.Insomnia, poor memory
3.Epilepsy
Method
Subcutaneous insertion 0.5-0.8 cun. Moxibustion is applicable.