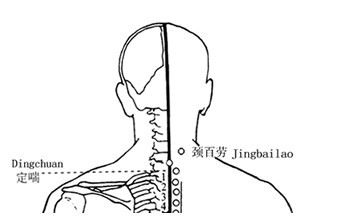 Meaning
Ding, calm down; chuan, asthma. The point has been applied for calming down the attack of asthma. So, it was named "Dingchuan".
Location
On the back, 0.5 cun lateral to the lower border of the spinous process of the seventh cervical vertebra.
Indication
1.Asthma, cough, oppression of the chest, shortness of breath.
2.Sore throat.
Method
Perpendicular insertion 0.5-0.8 cun. Moxibustion is applicable.