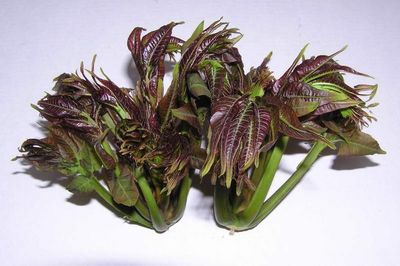 Name
Chun Ye (Leaf of Chinese Toona)
The Effect of Chun Ye
Property
Bitter, neutral; heart, spleen, and large intestine meridians entered.
Actions
Remove toxicity, kill parasites, drive away summer heat, eliminate dampness.
Indications
Diarrhea, poor appetite, sores and boils, scabies, nausea with vomiting, tinea capitis, summer heat.
Dosage and Administrations
Decoct 30~60 g of the fresh. Proper dosage is for external application, decocted for washing or pounded for applying.
Cautions
Do not eat too much.