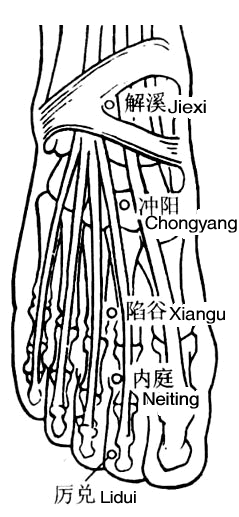 Chongyang(ST42,冲阳) is an acupuncture point in the meridian named Yangming Stomach Meridian of Foot. It is the Yuan-Source Point of the stomach.
Meaning
Chong, important place; yang, Yang of Yin-Yang.
The point is where the Chongyang Pulse is located (arteria dorsalis pedis).
Location
Below Jiexi, in the depression between 2nd and 3rd metatarsal bones and the cuneiform.
Indication
Facial paralysis, toothache, headache, paralysis of the lower limbs, pain in the instep.
Method
Perpendicularly 0.3-0.5cun, avoid the artery.